Alexis Daugherty

Moira Griffith

Brittany Jackson

Mary Kesinger

Sarah McCafferty

Katie Scherzinger

Sarah White

Emily Angell

Eleanor Jarlsjo

Jennifer Choe

Julia Corr

Ally Bartoszewicz

Nicole Caratas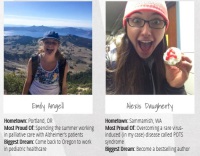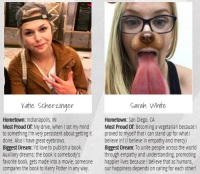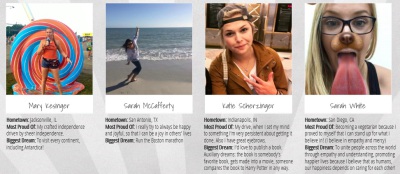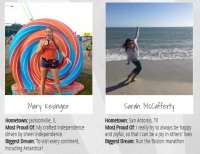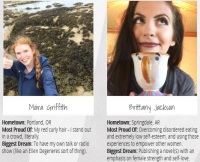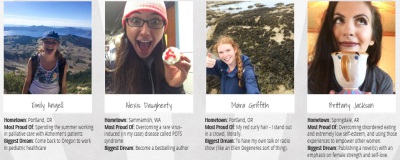 Hometown: Pittsburgh, PA

Most Proud Of: The number of times I have actually chosen faith over fear and just went for it. I also make really good chocolate chip pancakes.

Biggest Dream(s): Be a novelist, see the world, ride a hot air balloon, learn to surf, live a life that helps re-acquaint people with their inherent goodness

Hometown: Lake Villa, IL
Most proud of: Following my dreams to become a writer, and becoming the Saint Mary's editor for the Observer as a sophomore
Biggest dream: To travel the world as much as possible



Hometown: Portland, OR
Most Proud Of: Spending the summer working in palliative care with Alzheimer's patients 
Biggest Dream: Come back to Oregon to work in pediatric healthcare 


Hometown: Morganville, NJ
Most Proud Of: My ability to stay present
Biggest Dream: ​To travel the world


Hometown: Warrington, PA 
Most Proud Of: Helping a nervous kindergartner learn to read while tutoring at ND
Biggest Dream: to find a good balance between being a businesswoman and mommy!

Hometown: Sammamish, WA
Most Proud Of: Overcoming a rare virus-induced (in my case) disease called POTS syndrome
Biggest Dream: ​Become a bestselling author


Hometown: Arlington, VA
Most Proud Of: My red curly hair - I stand out in a crowd, literally.
Biggest Dream: To have my own talk or radio show (like an Ellen Degeneres sort of thing).


Hometown: Springdale, AR
Most Proud Of: Overcoming disordered eating and extremely low self-esteem, and using those experiences to empower other women.
Biggest Dream: Publishing a novel(s) with an emphasis on female strength and self-love.


Hometown: Indianapolis, IN
Most Proud Of: My drive, when I set my mind to something I'm very persistent about getting it done. Also I have great eyebrows.
Biggest Dream: I'd love to publish a book. Auxiliary dreams: the book is somebody's favorite book, gets made into a movie, someone compares the book to Harry Potter in any way.


Hometown: Houston, TX
Most Proud Of: My journey from couch potato to half marathon runner
Biggest Dream: ​To be a successful business woman and have a family who loves me


Hometown: Jacksonville, IL
Most Proud Of: My crafted independence driven by sheer independence.
Biggest Dream: To visit every continent, including Antarctica!


Hometown: San Antonio, TX
Most Proud Of: I love that I can make people smile. I am also an great singer, just ask my shower head.
Biggest Dream: To run the Boston marathon before I graduate college, and then eventually do an Ironman.


Hometown: San Diego, CA
Most Proud Of: Becoming a vegetarian because I proved to myself that I can stand up for what I believe in! (I believe in empathy and mercy)
Biggest Dream: To unite people across the world through empathy and understanding, promoting happier lives because I believe that as humans, our happiness depends on caring for each other!